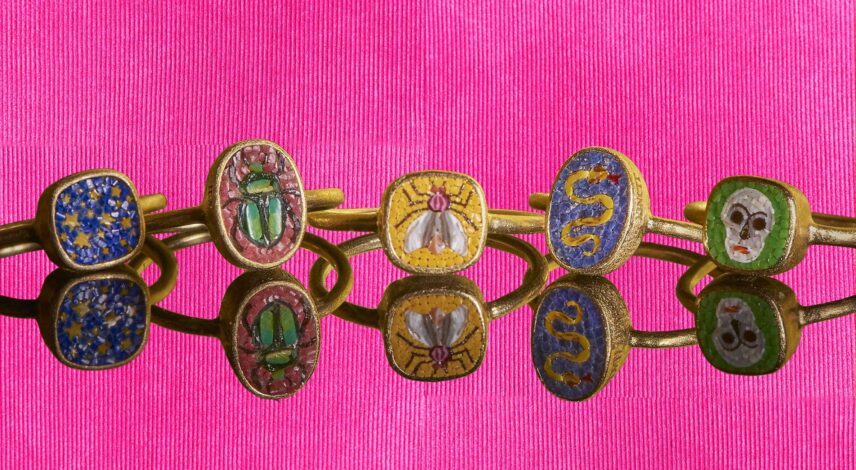 Le Sibille launch the innovative Capsule Collection Le Sibille X Donna Jewel
0 comments
Rome, July 2022 – Based on the strategic study of trends and product by Laura Inghirami, specialized consultant, jewellery opinion leader and Founder of Donna Jewel, Le Sibille took the inspiration for the creation of the innovative Capsule Collection Le Sibille X Donna Jewel, composed of five disruptive rings made with the ancient technique of the "Micromosaic".
Laura Inghirami, after having conducted a qualitative analysis by interviewing a sample of 200 young people aged between 14 and 31, identified the most relevant factors for Millennials and Generation Z in the purchase of a jewel: in order of importance, it emerged that young people value design and the aesthetic and creative aspect as an expression of their personality (in particular, after the pandemic period, the element of color and exuberance is increasingly sought after), the emotional and affective value, the history (with a strong focus on craftsmanship and culture) and the symbolism that leads to identification in concepts with an inclusive and universal character.
Le Sibille chose to entrust Laura Inghirami as they want to involve young people in their universe of values, passion and authenticity. And the mission is shared: since the launch of Donna Jewel, in fact, Laura Inghirami's focus has always been to give voice to the excellence of jewelry and bring the new generations closer to an industry of art and culture that boasts a centuries-old history.
The five rings of the Capsule Collection bring together tradition (all the rings are made in Le Sibille's atelier in the heart of Rome in 18-karat gold and Small Roman Mosaic) and innovation (the pop colors, the small dimension and the symbolic inscription in each of them) and communicate an inspirational message: Mosca bears the engraving "Incipit ad Sidera" ("Start from the stars"); Serpente "Omnia Vincit Amor" ("Love wins over everything"); Cielo Stellato "Per Aspera ad Astra" ("Through adversity you reach the stars"); Teschio "Memento Mori" ("Remember that you have to die") and finally Beetle "Fortuna Audaces Iuvat" ("Fortune favors those who dare").
The Capsule Collection was launched during the Haute Couture Week in Paris on July 5th and July 6th at Precious Room by Muriel Piaser, the innovative Trunk Show that represents an exclusive and intimate meeting point for the world of fashion and jewelry inside the sophisticated location of Palais Vivienne, and it is available exclusively online, in Le Sibille shop www.lesibille.it.
"I am glad that my strategic jewellery studies and analysis of Millennials & Generation Z preferences inspired Le Sibille in the creation of the first Capsule Collection in Small Roman Mosaic designed for the new generations. The "Micromosaic" is an ancient art that with Le Sibille becomes inclusive, embracing a young audience that today seeks culture, craftsmanship, the value of the know-how together with an ever stronger desire for self-expression, symbolism and joie de vivre." Laura Inghirami, jewellery consultant & Founder Donna Jewel
"Simple and totemic lines, this is what the new generations sense and steal, quickly, with the eyes of the soul and right down to the heart, talismans with ancient bearing which vibrate for 'them'. Young people are free from mental lucubrations, from ancestral fears, for them everything is possible, especially the realisation of their dreams. Together with the new generations, we respectfully look at history, culture, and all the traditions of the Planet, and with an omitted voice together we transmute them, bringing innovation and Human progress. Always and through this disruptive capsule collection, we look to the stars." Francesca Neri Serneri, Creative Director Le Sibille
For further information:
Press Office
info@lesibille.it
www.lesibille.it